If you're looking to remodel your home or build a new one, you'll likely be making a decision about flooring. There are plenty of options, particularly if you're seeking the beauty and durability of hardwoods. "You can find hardwoods and engineered hardwoods that are perfect for just about any style of home," says Ben Thompson, who along with Ross Bayley, owns Hardwood Bargains and together they source hardwoods from around the world.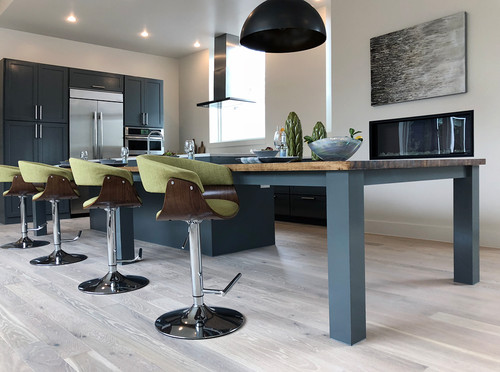 A natural fit. 
Growing up in Alaska, Thompson was surrounded by natural wood furnishings. After a 10-year career in motorcycle racing, he moved into residential remodeling. "I was sourcing many types of building materials, including hardwoods," he says. "I discovered there was a real market for direct-to-consumer hardwoods for flooring and wall paneling." Thompson opened Hardwood Bargains in 2008, selling to homeowners and their builders, and developing relationships with local installers.
Oak to acacia.
If you're looking for the appearance and value of a traditional hardwood floor, Thompson strongly recommends engineered hardwoods. Often a more budget-friendly choice, they can be used on moisture-prone concrete substrates, unlike solid hardwoods. "The engineered flooring we carry has a thick top layer of hardwood that will stand up to sanding and refinishing," he says. You can choose your flooring by style, finish, color, plank width, and price.
Below, Thompson offers tips for upgrading your home with engineered hardwoods.
1. Add Texture to Walls
Engineered hardwoods can bring beauty to your walls, whether you choose a rustic oak or a polished walnut. "Wood adds a whole other element, a rich appearance when compared with stone or drywall," Thompson says. "In the last few years, natural wood veneers have come to the attention of architects and designers."
Engineered Alaska white oak graces the accent walls and kitchen ceiling of this Snowmass, Colorado, vacation home seen above. "Along with acacia, this oak is one of our most popular products," Thompson said. "What you see on the walls are essentially scaled-down flooring planks, each with a self-stick backer. It's DIY-friendly, and I think that's why it's so popular."
2. Aim for Durability
Engineered hardwoods combine the beauty of true hardwood with the ease of installation you get with laminated flooring. Because the engineered planks are finished at the factory, you know in advance exactly how your flooring will look. Want more durability? Choose flooring with a thicker "wear layer" on top. "Good engineered hardwoods will have 2 mm and some have as much as 6 mm," Thompson said. "Get one of those and you can sand down into it if you need to, just like a hardwood floor."
A client selected engineered eucalyptus — highly durable and eco-friendly — for his Austin living room, seen above. "Eucalyptus can be as much as 20 times harder than other wood flooring," Thompson says. "Colors range from grays to browns, so it's become a very stylish choice for contemporary and modern homes."
3. Get Fancy With Finishes
If you're worried about flooring upkeep, get acquainted with the treatments and finishes that add character and camouflage wear. "Wood that's been hand-scraped or wire-brushed won't show nicks or scratches as much as smooth wood," Thompson says. "It's perfect for a heavy traffic area like a kitchen."
This Lake Austin home has engineered natural hickory flooring throughout with a hand-scraped finish. Thompson considers it an ideal solution for an active family, with people coming in and out from the lake and pool. "You mop it with a standard wood flooring cleaner, very simple," he says.